Click Dolly below to see more of her!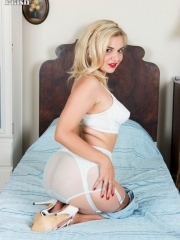 Dolly stopped by to show her sexy coordinated look, with pale blue and white theme going on, even to her classic RHT nylons with matching welt band! Once she is stripped she knows what you want, and gives close ups that you're almost in tasting distance!
Click Dolly below to see her video preview!